Xarelto Antidote Rejected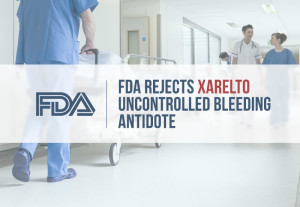 The FDA recently hit Xarelto manufacturer Bayer & Johnson & Johnson with bad news—a new Xarelto reversal agent known as AndrexXa, and developed by Portola Pharmaceuticals, was rejected until additional data and information can be provided.
This is even worse news for the thousands of patients who have suffered from uncontrolled hemorrhaging as a result of using the newer class of blood thinning drugs known as New Oral Anticoagulants (NOAC's), and of which Xarelto is classified under.
NOAC's, as a new form of blood thinners, were initially developed several years ago and are prescribed to patients to prevent strokes and blood clots following surgery. They are also recommended for those who suffer from serious medical conditions including deep vein thrombosis (DVT) and atrial fibrillation (Afib).
Prior to the use of NOAC's such as Xarelto, patients were prescribed Warfarin. While Warfarin was relatively safe when taken in the manner instructed by the doctor, it also required constant monitoring, diet restrictions, and routine blood testing to make sure that chemical imbalances were not occurring. While internal bleeding could> occur from taking Warfarin, there was also a reversal agent (antidote) available.
Xarelto was considered to be more effective and patients were not required to be under as much monitoring. However, patients on this drug are at a higher risk of developing serious internal bleeding disorders including fatal intracranial and stomach bleeding.
While this "new generation" anticoagulant medication was developed to surpass the effectiveness of the "gold standard" blood thinner Warfarin, it has instead led to thousands of cases of health issues and over 1000 deaths. While frequently labeled as a "blood thinner", this drug actually inhibits blood clotting. Without a suitable reversal agent, patients on Xarelto can face uncontrolled and potentially fatal bleeding.
While recognized as being potentially deadly, the drug still continues to grow in popularity, making over $1 billion in revenue for Bayer and Johnson & Johnson, as reported by the Wall Street Journal. Sadly, thousands of patients remain at risk and are forced to carry the burden of this pharmaceutical disaster.
The FDA's rejection of AndexXa is partly the problem of producer Portola Pharmaceutical, since they hurried to get the drug approved and on the market by requesting an accelerated review of its application. The FDA expressed apprehension to the manufacturing process and the effectiveness of the newly created drug on anticoagulants other than Xarelto.
It should be noted, however, that the Food and Drug Administration did provide the company the opportunity to refile the application after additional testing can show that the drug is not only effective, but also safe.
A lack of a reversal agent for patients using Xarelto can be deadly. If you or a loved one has suffered adverse effects as a result of taking Xarelto, contact a team that fights to earn your trust. Reach us today at 877-919-0830 to learn more about how we can put our years of experience to work fighting for you and your family.