What to Know About Filing an Asbestos Exposure Death Claim for a Loved One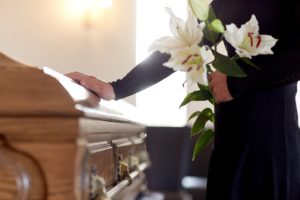 Mesothelioma can cause long-lasting emotional and financial distress for not only the unfortunate individual suffering from the illness but also close family members as well.
Unfortunately, malignant mesothelioma, caused by exposure to asbestos fibers, is an incurable cancer that can affect the lungs, abdomen, or heart. For many individuals diagnosed with mesothelioma, the disease has already advanced to being terminal, with the average survival time being less than a year.
The passing of a loved one can leave their family members struggling to pay medical bills, funeral costs, and other financial burdens.
If your loved one passed as a result of asbestos exposure or mesothelioma, the national asbestos lawyers of Hotze Runkle PLLC have the experience you need to help you fight for the compensation your family deserves.
Who Can Receive Compensation for an Asbestos-Related Death?
When diagnosed with an asbestos-related disease, an individual can claim installments from asbestos funds. When the victim passes away, family members that have been appointed to the estate before the individual's death will inherit the installments, giving them some financial security.
If no person has been designated to inherit the estate, then the decision will be left in the hands of the estate representative, a family member appointed by an attorney.
In the case that the individual affected by the disease never filed a claim, but their death is directly related to asbestos, a family member can still work with an asbestos attorney to file a wrongful death lawsuit.
How Are Estate Representatives Appointed?
There are two ways an estate representative can be appointed:
The decedent appoints the representative prior to passing away.
The court designates a representative of the estate.
In the end, the appointed estate representative will be able to decide how to pursue a wrongful death claim.
Who Can File a Wrongful Death Claim?
There are certain criteria to be met in order to file a wrongful death claim. The claim may be used to pay for medical bills, funeral costs, and loss of income experienced. The Texas asbestos attorneys at Hotze Runkle PLLC can help you fully understand your rights and what can be done to seek out compensation.
By law, only certain eligible family members can file a wrongful death claim. The individual must have "standing" or be close enough to the decedent as well as be directly affected by the loss of life. These relations can include:
A spouse
Immediate family member
Dependent of the decedent
In some states, a claim may be filed by a parent or more distant family member
Additional Information About a Wrongful Death Claim
An asbestos-cancer or mesothelioma claim is much like a personal injury claim. The asbestos attorney must conduct thorough research about the history of the deceased including investigating the workplace or site where the exposure took place, as well as interview co-workers that can testify.
Although the asbestos attorneys at Hotze Runkle PLLC are very familiar with companies known for asbestos exposure, it can be difficult to trace specifics once the death has occurred. This is why it is vital that either the decedent or a family member documents work history, sites of exposure, and a list of reliable individuals who can help the investigation.
It's also important to recognize that asbestos-related wrongful death claims are constricted by a statute of limitations, which is typically 12 to 48 months from the date of diagnosis, depending on the applicable statute of limitations in your state.
The main goal in an asbestos wrongful death claim is to hold the negligent employer or company liable for exposure to the harmful material.
Let Hotze Runkle PLLC help you file a wrongful death claim caused by mesothelioma or asbestos exposure.
It is absolutely important to hire an experienced attorney familiar with experience handling wrongful death cases and asbestos-related claims.
Contact the trustworthy and hardworking Hotze Runkle PLLC asbestos exposure attorneys today at (877) 919-0830.